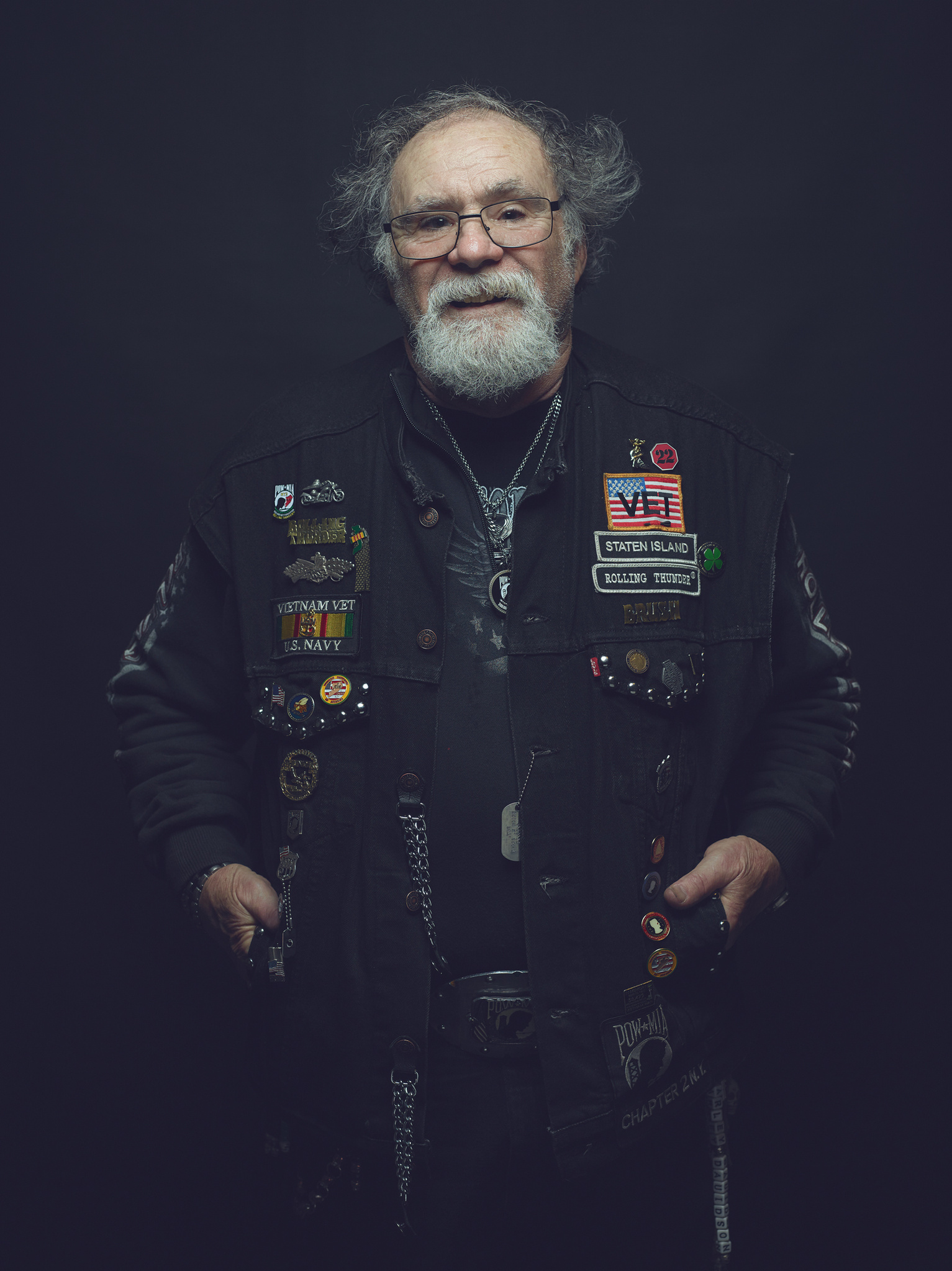 For a while, I had been wanting to photograph a portrait series of bikers. This was probably a result of me binge watching Sons of Anarchy for what seemed like forever. That and my interest in photographing sub cultures pushed me to finally create this portrait series. With a little planning mixed with perfect timing, the opportunity to shoot it basically fell into my lap.
It was Monday morning, the week of Memorial Day Weekend. In a few days, bikers from all over the country would be arriving in Washington DC for the annual Rolling Thunder rally. If there was ever a great opportunity to photograph a biker portrait series, this was it. There were just a few things I had to consider.
The men and women visiting DC for the rally already had a schedule of events they would be attending throughout the weekend. This meant that renting a studio space and trying to convince them to ride to the studio would not be ideal. I could have walked around the Pentagon parking lot with a camera and light, but I wanted a more controlled environment. Plus, I'm not too sure how the Pentagon Police would feel about that. I eventually thought of the perfect solution, but I didn't quite know how it would work out.
I live within walking distance to the Pentagon and only a few blocks from a series of hotels. In past years, I've seen bikers all around these hotels, so I decided to visit the Hampton Inn on a whim. Walking into the hotel, I thought to myself, "They're going to think I'm crazy. They're going to laugh at this request." The manager was willing to meet with me, and as we stood in the lobby, I explained to her what I was interested in doing. Since the hotel's conference room was not being used during Memorial Day Weekend, she told me it was mine to use if I'd like, with no fee as well! A perfect example of Just ASK! I couldn't get home fast enough, and when I did, I got straight to light testing.
So the weekend arrived. During the week, I tested lighting setups and post-processing to make sure I had a solid plan for how the series would look in the end. I printed out a sign-in sheet so I could put names to portraits and signs to put in the lobby and outside the conference room. With everything setup, it was time to wait for the first person to walk in. It was a slow start. People would step in the room and ask, "How much? Oh, it's free?! Ok!" After a few of those exchanges, we wrote "FREE" on the sign in the lobby. After that, we had a line of people sitting in the conference room. That's when I got really excited about the day, and things started to get really fun.
When you look at the portraits, most of the men and women look pretty serious. Seeing these serious faces, you would never know that I had groups of bikers standing right behind me cracking jokes and yelling some pretty colorful words trying to get each other to crack up while having their portraits taken. There were a couple of times I had to pull away from the camera because I was laughing too hard. It was wonderful though. Everyone was having a great time with it, and they loved seeing their portraits immediately in Capture One while I was shooting tethered.
While shooting, a lot of them would ask what the photos were for. I explained that I've done a fair amount of portrait work with veterans in the past and that this series was my way of participating in Memorial Day Weekend and getting to work with even more veterans. I lost count of how many firm handshakes I got that day, but I got a good sense that they truly appreciated what I was doing.
Just before the day ended, I photographed Navy veteran and Vice President of Chapter 1 Ohio, Mr. Bush. Bush was one of the most memorable bikers I photographed that day. I was wrapping up with him, and I kept thinking to myself, "I know this guy has way more to offer in these portraits." I pulled back from my camera and looked at him. "Can you give me the finger?", I asked while flipping him off with both hands. "Yeah! I can do that!" What he did next was so much more than what I was imagining. In my head, I was thinking of him standing there with his hands simply raised and giving me the finger with a relaxed but stern expression. Instead, he went what I can only describe as full on pissed off mode. He lunged toward the camera with his face straining with anger and threw up a white-knuckled double bird. It was the perfect way to end the day!
You can see the entire Rolling Thunder portrait series here.
Lastly, I just need to give a big thanks to my wife, Shannon. While I was photographing the portraits, she was out in the lobby talking to other bikers and convincing them to have their portraits photographed. Along with that, she kept things organized to ensure I had the correct info to go with each portrait for digital delivery later. Thanks so much for spending the day with me and keeping everything in check! It's not often we get a nice studio portrait taken of us together, so we took advantage of having everything set up and snapped one before breaking everything down.